First of all: Happy Easter, everyone!
One of my favorite Easter traditions of all time involves watching Easter Parade (starring the dashing Fred Astaire and Judy Garland) with my mother and sister after dinner on Easter Sunday. (Dad hates movies, so he'd never join in.) Being the fashionista that I am, I always loved looking at all of the hats and dresses that were worn throughout the movie. And of course, the music is so much fun.


This was arguably my favorite scene from the movie growing up. What a great dancer, that Fred!
Anyway, I thought I'd do a little bit of research about the Easter Parade that happens every year on 5th Avenue in New York. Apparently it began sometime in the 1800s when all the aristocrats of Manhattan would parade the latest fashions after they went to church. Apparently flamboyant bonnets were in style back then, and the fad never really died each Easter season.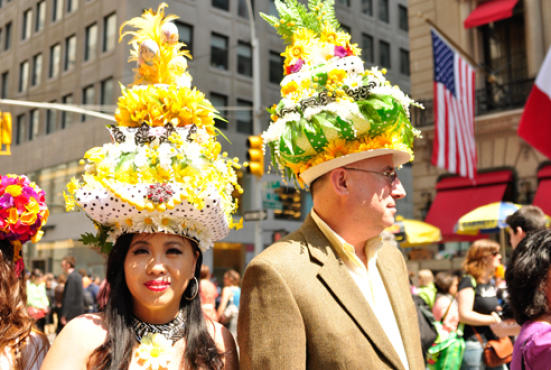 Nowadays it's a lot like Halloween, where people have yet another excuse to make all-out spectacles out of themselves and get away with it. It would be a dream come true to celebrate Easter in one of those amazing hats someday. To the drawing board! I'm off to design the best Easter Bonnet ever!!
Listening to: "Shaking the Blues Away" performed by Ann Miller on Easter Parade.
Things Going On Today: A light Easter Dinner with my aunt and grandparents. Also, I sang a solo today in sacrament meeting.
Blessings: Not as much homework as you think you have.
Learned: Easter Parades have religious significance; they were used a long time ago to represent the processional triumphant entry of Christ into Jerusalem the week before his crucifixion. Apparently it is also a tradition to wear new clothing on Easter.