Birthplace: Amsterdam, 1993
Viktor Horsting and Rolf Snoeren
I love this season's look. The oversized, yarn-like embroidery reminds me of my younger days when I would pull shoelaces through giant holes on these cardboard pictures to pass the time during sacrament meeting. I'd totes wear a lot of the dresses in here, particularly the sunny summer dresses.
V&L work a lot with layers. They've had multiple shows where they've stacked coat after coat and dress after dress onto one single model. You can also see the voluptuous layers in their Spring/Summer 2010 "Cutting-Edge Couture," as well as others. Viktor and Rolf are also amazing because they quote amazing composers like Philip Glass and Stravinsky; they also incorporate modern faces like Rufus Wainwright and actress Tilda Swinson.
Viktor and Rolf has been worn by:
Rihanna
Natalie Portman (pregnant at the Golden Globes, in a dress designed for her!)
Katy Perry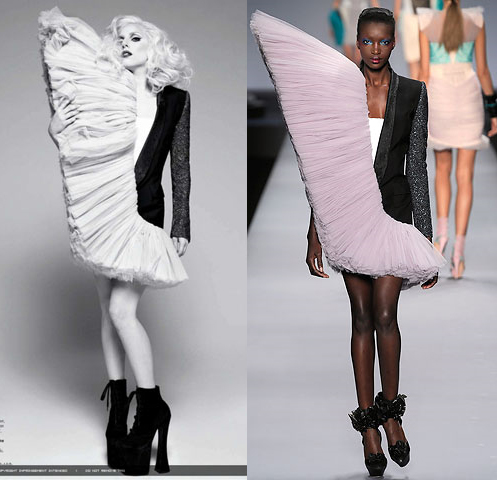 And, of course, our one and only Lady Gaga
From their Fall/Winter 2008 "No" collection. I fell in love with these pants.
From Fall Winter 2006 -- One of my ABSOLUTE FAVORITE THINGS
This one was also worn by Gaga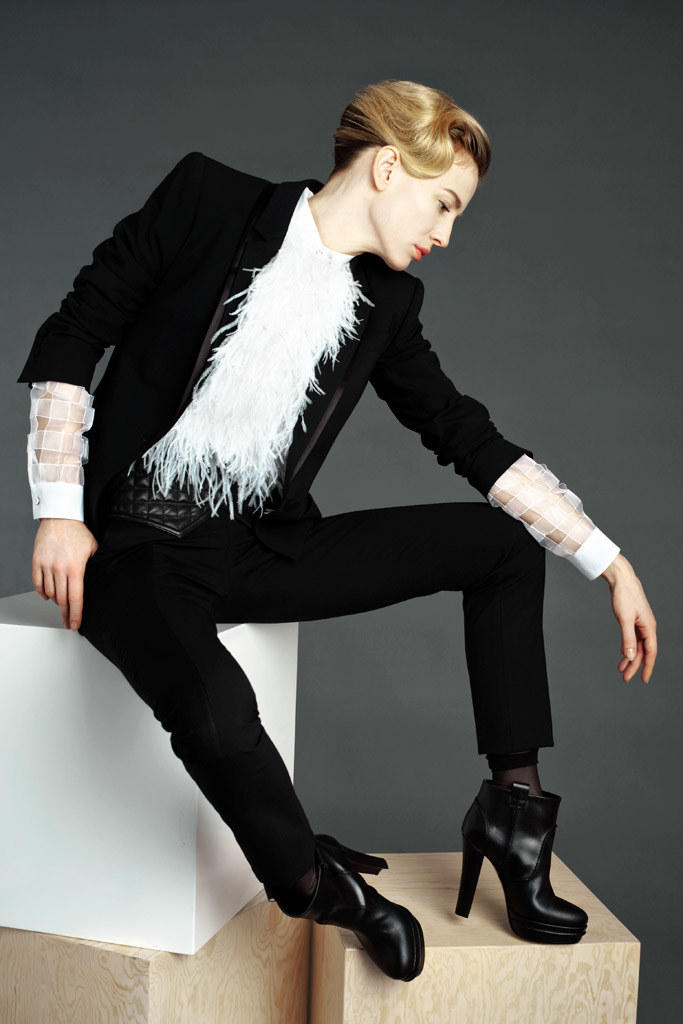 This dress is upside-down!
And here's the ad for their fragrance, Flowerbomb
Oh, and PS, interesting tidbit: Katy Perry wore V&R for her ET music video. Look how creepy they've made it!!
Most of Their Collections: I watched every single one of these runway shows. Yes, I did.
Battle for the Sun -- FW 2011 -- Red, gray, and black. Red paint faces. Industrial feel.
Shirt Symphony -- SSu 2011 -- Lots of tops, inspired by men's shirts -- varying colors, White Wedding.
Glamour Factory -- FW 2010 -- Special guest model Kristen McMenamy sheds and acquires coats with the help of V and R as models parade about her.
Cutting-Edge Couture -- SSu 2010 -- Pastels, experiments with cutaway shapes and tulle. Dress with holes. Roisin Murphy sings.
Statues -- Fall/Winter 2009 -- Neutral colors, classical architecture. Depeche Mode's "Enjoy the Silence." Simpler womanswear.
Shalom -- SSu 2009 -- Black and white geometric designs interspersed with bold multicolor and spiral designs. Shalom Harlow models.
No -- FW 2008 -- Use of the words NO and DREAM ON on face and clothes. Amazing pants and dresses. Gray, black, and magenta.
The Pierrot collection -- SSu 2008 -- Feminine look using black/white, musical, Pierrot imagery. Models emerge out of a mouth.
The Fashion Show -- FW 2007 -- Dutch look (wooden shoe high heels), with light fixtures sticking out and shining on them. Commentary on today's fashion.
The Ballroom Collection -- SpS 2007 -- Ballroom motifs, high-class formality. Men's attire. Rufus Wainwright.
Silver -- Fall/Winter 2006 -- Little black dresses, Gold lamee gowns, and netted masks. Not to mention Phillip Glass. Hot.
Upside Down -- Sp/Su 2006 -- Clothes worn the wrong way!!! Upside down set, dresses, off kilter shirts, etc.
Bedtime Story -- F/W 2005 -- Tori Amos. Pajama and bedsheet motifs. This is pretty cool.
Flowerbomb -- Sp/Su 2005 -- Helmets and lots of black with bows. All pose -- blast -- PINK! Ribbons, flowers, pink pink pink. What a surprise! Also the year they came out with their Flowerbomb fragrance.
The Hunt -- FW 2004 -- Lots of Antlers. (Peter and the Wolf Music)
Red Shoes -- S/Su 2004 -- Otherwise pretty BORING clothing except for the fact that they all have the same RED SHOES in common.
One Woman Show -- FW 2003 -- Tilda Swinton is our star, and the models are her clones. Masculine clothing.
Flowers -- SSu 2003 -- Dancing models, colored hair, and pastel/floral prints. Lots of spirit and lively dancing.
Bluescreen -- FW 2002 -- Use of a bluescreen to create images on otherwise blue accessories among black attire.
Russion Doll -- FW 1999 -- They play STRAVINSKY'S RITE OF SPRING!
Listening to: "I feel Immortal" by Tarja
Things Going On Today: Went and observed 3-year-olds, sat and watched Viktor and Rolf all day. Some homework.
Blessings: Weekends. Getting ahead. Roommates with grapes.
Learned: A LOT about Viktor and Rolf. Also found Peter and the Wolf on Youtube. Sacha is a boy's name in Russian.