Friday, November 25, 2011



Can't. Stop. Listening.
Posted by

Hannah
at 9:46 AM
0 comments

So I have this REALLY AWESOME FAMILY that does some REALLY AWESOME THINGS.
For example, my cousin Trevor is on the University of Utah football team and is kicking some major butt.
I don't know much about football, but I know enough to recognize that this is a pretty awesome picture.
Trevor plays the position of linebacker for the Utes, and he's becoming a hot topic in the world of college football. (Here's his
bio
, if you wanna know more.) He became the first University of Utah
player
to become a PAC-12 Player of the Week, after the BYU-vs-UofU game last September. (That was a hard game for me to watch... who to root for??)
Trevor comes from a huge sports family. His brothers AJ and Drew also play for major college teams. I never knew my "California cousins" incredibly well. They were too far away to visit for most of my childhood, and since I was a lot younger than most of them, a lot of what they talked about went completely over my head. But I am beginning to appreciate the value of these family members more and more as I learn more about what it is they do.
My cousin, taking down Jake Heaps from BYU. I wouldn't have it any other way...
My aunt, Kris, is Trevor's mother. Yesterday, over Thanksgiving dinner, she let me in on what life was like being a sports mother.
As a supportive mother, she travels from southern California to watch her sons games in Colorado, Utah, and wherever the away-games take her. She's filled with stories about her sons' adventures in college. She's always praising them, supporting them any way she can. But e
ven though her sons are incredibly talented, she still has those moments during a game where she can't watch. There are some games where the pressure is so high and everyone is watching what her sons are doing, judging their performance. I can't imagine what it would be like to watch my son get a concussion by ramming into a guy twice as big as he is... What a strong woman, indeed.
And the coolest part of it all: There's so much more to it than just what happens on the field. My aunt and uncle have done a really good job raising these boys to have strong moral compasses and charity towards their fellow men. AJ, Trevor, and Drew have all served LDS missions, which may have been a greater sacrifice than we non-sports-players can imagine. Their younger brother, Beau, is just two weeks away from starting his own mission in Brazil (so excited!). Trevor and AJ are happily married to two beautiful and strong women. Trevor's got a daughter, Nelli (who is so cute!), and AJ's expecting a son, Rio, in just a few short weeks. They are prepared to provide for their loved ones by using the many talents they have besides sports. They really don't fit that stereotype you always hear about major sports stars. They don't party every night, they aren't full of themselves, they don't do things they regret later. They would never do anything to shame the family. They love the gospel and they love their families. I am so proud of them.
Listening to: Still "Helena Beat."
Blessings: Pie.
Learned today: Trevor also set a world record in 2004 for eating an onion in one minute and 35 seconds. The kid's got talent, that's for sure....
Things Going On: Well, I SHOULD be homeworking.
Posted by

Hannah
at 6:40 AM
0 comments

Saturday, November 19, 2011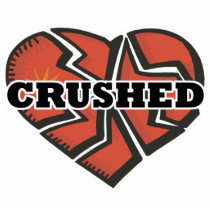 ... REALLY BAD.
Listening to: "Stereo Hearts"
Things Going on Today: Roommate reunion, Alicia's Bridal Shower, Muppet Christmas Carol
Learned: Enrique Iglesias's song, "Do You Know" was on Now 67.
Blessings: Warm sidewalks.
Posted by

Hannah
at 10:08 AM
1 comments

Wednesday, November 16, 2011
I have a huge gigantic major large humungous gargantuan big giant monster crush on one of my teachers.


Again.


Listening to: "Kommt Ein Schlanker Bursch Gegangen"
Things Going On Today: Teaching Part 1 of my TWS.
Blessings: Silent Dictation Assignments
Learned: About integration of music with other artistic disciplines. A lot about Paul Klee.
Posted by

Hannah
at 5:40 PM
0 comments